Drysuit Package 3 - The Sport Package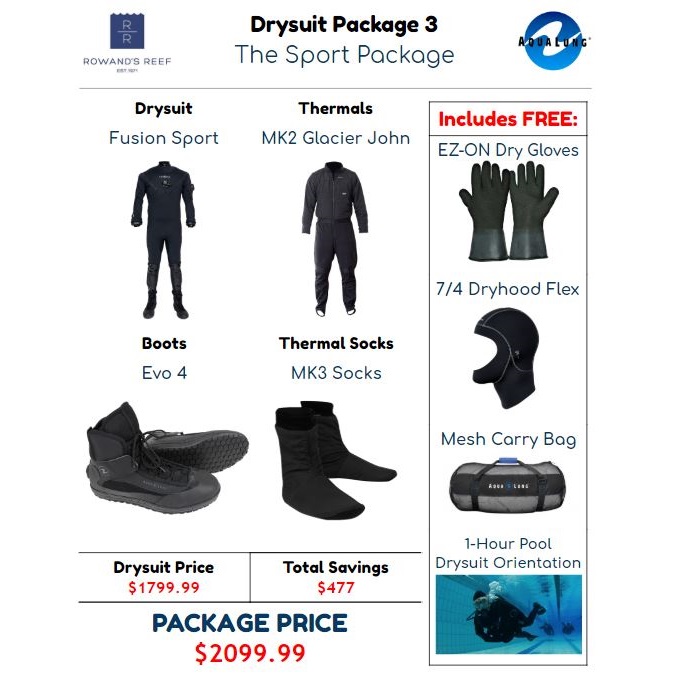 Drysuit Package 3 - The Sport Package
Our Drysuit Package 3 - The Sport Package from Aqua Lung is the perfect entry into the front-zip line of Fusion Drysuits. This innovative suit is incredibly lightweight and unmatched in flexibility, which offers extreme mobility and streamlining when diving. The soft, breathable AirCore lining coupled with the MK2 Thermal John and Mk3 Thermal socks provide maximum comfort in and out of the water. Plus it's compact enough to fit in your carry on luggage making it perfect for travel. With a total of $477 of savings, this package is a great deal for any diver looking for a Front-Entry Fusion Drysuit at an incredibly low price!
The Sport Package contains:
The Aqua Lung Fusion Sport Drysuit with Aircore

The Aqua Lung MK2 Thermal John Undergarment

Aqua Lung MK3 Thermal Socks

Aqua Lung Evo 4 Boots
Our Drysuit Package 3 includes for FREE:
Aqua Lung EZ-ON Dry Gloves

The Aqua Lung 7/4mm Dryhood Flex

An Aqua Lung Mesh Carry Bag

A 1-Hour Pool Drysuit Orientation Session with Rowand's Reef
Shipping Information
- Inventory is updated every 24 hours
- Products ship on Tuesdays and Thursdays
- Products/Sizes/Colour options not in stock can be requested using the Product Request Form here:
Product Information
Find out more about each item of gear
included in Drysuit Package 3 - The Sport Package below.
Click on the pictures to find sizing and features information.