BCD/Regulator Package 5 - The Fusion Package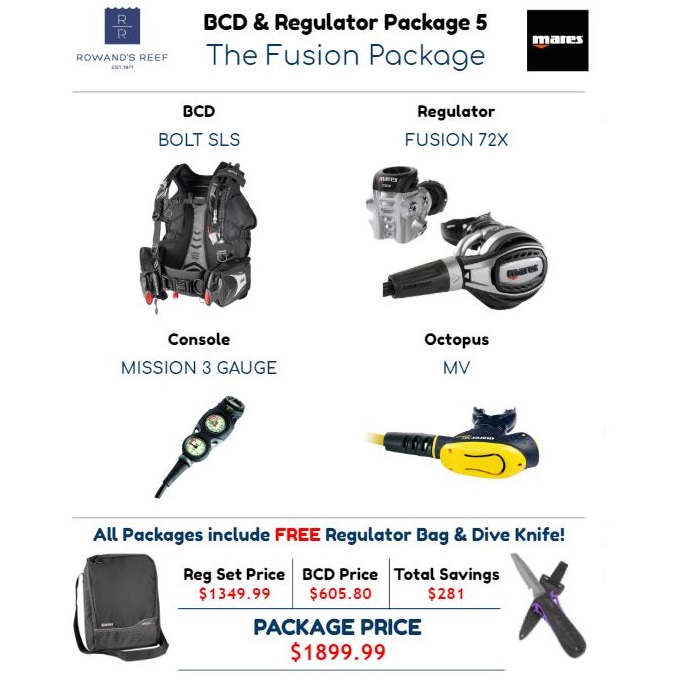 BCD/Regulator Package 5 - The Fusion Package
Our BCD/Regulator Package 5 - The Fusion Package from Mares is designed to take your diving to the next level! The Bolt is a back-inflate, lightweight BCD with integrated weight pockets and features an innovative lumbar support system. This gives complete comfort in and out of the water. The package comes with the Fusion 72X Regulator, a top performance, easy-breathing, all-metal regulator from Mares' brand new line of re-designed regs and perfect for use in both cold and warm water. Together this is an excellent setup for those wanting total comfort, great performance and strong durability to hold up in all dive environments! With a total of $281 of savings, this package provides plenty of value and longevity that would suit a beginner diver looking to step up to a more advanced level.
The Fusion Package contains:
The Mares Bolt SLS BCD

The Mares Fusion 72X Regulator

The Mares MV October

The Mares Mission 3 Gauge Console
Our BCD/Regulator Package 5 includes for FREE:
Mares Cruise Regulator Bag

Aqua Lung Stainless Steel Squeeze Lock Dive Knife
Shipping Information
- Inventory is updated every 24 hours
- Products ship on Tuesdays and Thursdays
- Products/Sizes/Colour options not in stock can be requested using the Product Request Form here:
Product Information
Find out more about each item of gear
included in BCD/Regulator Package 5 - The Fusion Package below.
Click on the pictures to find sizing and features information.