Orcas, Octopus and Giant Nudibrachs! - Club Trip to Rendezvous Lodge
Over May Long Weekend, Rowand's Reef had our spring club trip to Rendezvous Lodge in Barkley Sound - and wow, what a trip it turned out to be!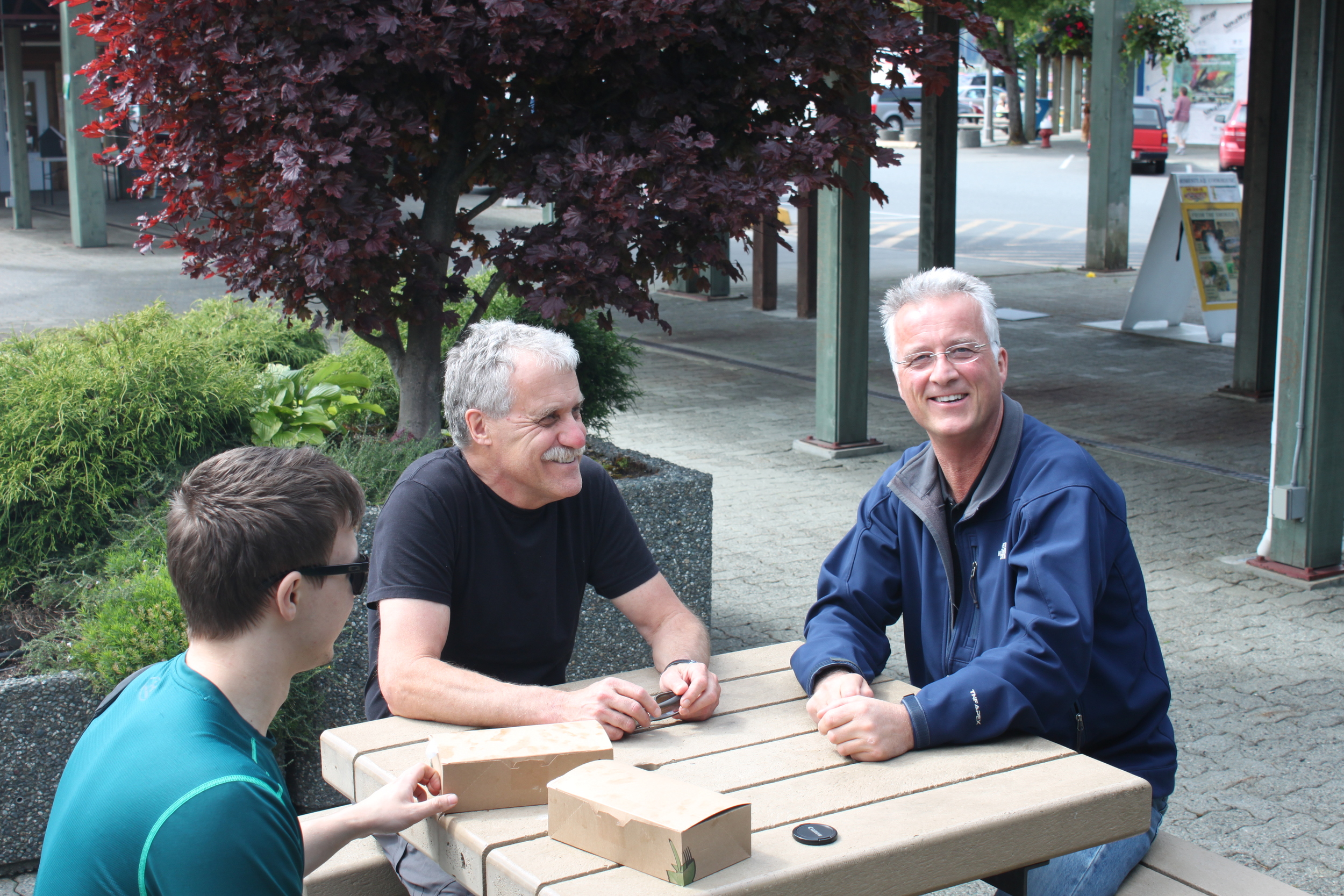 Step 1 - brave the May long weekend ferry traffic and get to our pick-up point at Port Alberni on Vancouver Island. This meant an early start on the Friday but everyone was up and raring to go! After a few stops to see the sites along the way, we arrived in Port Alberni, loaded up the boat and set off on our 2 hour boat ride down the beautiful Alberni inlet.
We descended the inlet and headed into Barkley Sound, where a maze of islands unfolds and offers a stunning landscape. Rendezvous Lodge is tucked away in a beautiful corner of Rainy Bay. Run by the lovely Peter and Kathy, it is a wonderful haven for some spectacular diving and relaxation.
After a brief tour of the accommodation, a few of the divers couldn't hold back their excitement and went straight in the water to do a bit of free-diving on the beautiful house reef. A relaxing evening with a glass of wine and beer in the hot tub then followed, before everyone got a early night's sleep - excited for the day's diving ahead.
Everyone was up for breakfast at 8 and then straight onto the boat heading to our first dive site - Kyen Point. This consisted of two pinnacle reefs, separated by a sand channel. Hiding in the sand channel were wolf eels and rockfish - so many rockfish! Add to that the large walls of anemones and smaller invertebrate life hidden among them, it made for a great first dive!
After a fantastic lunch on the boat (amazing soup Kathy!) we were ready to go at our second dive site: Gem's Jewel. Another gorgeous pinnacle reef, the highlight of this dive was a giant pacific octopus that was hiding under a big boulder!
We got back to the lodge and geared up for our 3rd dive on the House Reef. As a shallower site, all the divers had lots of time underwater to see all the nudibrachs, crabs and rockfish, jellyfish and even a small octopus hiding right under the dock! The swimming scallops were great fun to watch for those who hadn't seen any before!
Coming out from our final dive of the day, we had a lovely evening meal, a bit of relaxation in the hot tub before settling down for Part 1 of Peter's Go Pro and Camera Workshop.
Sunday and another boat dive to start the day. This time we went to Renata Reef, located in the Imperial Eagle channel. This beautiful pinnacle has a large flat top, that was home to so many ratfish and lingcod, as well as lots of colorful tiger, china and quill-back rockfish. It was definitely one of the top dives of the weekend!
After Renata Reef we headed back to the lodge for some lunch and a midday dive of the house reef. This time the divers explored the left hand side of the reef and despite some poor visibility, it didn't stop the divers from finding some amazing decorator crabs, jellyfish and even more nudibrachs! Next we went out on the boat across Rainy bay for a wall dive, which was covered in different nudibrachs and sea stars. The wall had lots of small ledges and large cracks and all the divers had great fun exploring these, finding lots of crabs hidden among the cracks.
After the final dive a few of the divers went out for a kayak adventure - making the most of the beautiful weather and location! Next followed another lovely dinner and part 2 of the Go Pro Workshop, where we looked at different editing software. Another relaxing evening, we all then settled down to watch Monty Python's The Quest for the Holy Grail before getting a good night's sleep.
The final day arrived which meant an earlier start to fit in 2 more boat dives before we began our trek back to Vancouver. Our first point of call for the day was Tyler Rock - a small pinnacle in the intersection of the Alberni Inlet and the Trevor Channel. Unfortunately no six gill sharks were seen, but the divers were more than satisfied with the huge lingcod, rock fish and incredible plumose anemone swim-throughs on the reef.
As the divers started to return to the boat, that is when the real excitement began - a pod of killer whales off in the distance hunting seals. We watched in amazement as the orcas made their kill and then started heading further into Rainy Bay, slowly disappearing from sight behind an island. Unfortunately, two of our divers were still in the water so we had to wait for them to return from their dive before we could see where the killer whales were heading. Thinking that was all from the orcas for now, we headed to our second dive site - Chup Point, located at the entry point of Rainy Bay.
As we were all preparing for our second dive, we spotted the killer whales again as they circled around the opposite side of the island. It appeared that they were hunting again, and we quickly counted 7 different orcas in the pod. After making a second kill, the whales decided to start having some fun and showing off! They started swimming in our direction, half the pod if front of us and half the pod behind us. Not wanting to interference with the orcas, we had switched our engines off, making sure to keep our distance.
We all had our cameras out filming the incredible encounter. However, before we knew it 2 orcas swam right up to us and then swam right under our boat!! Everyone was watching in amazement - no more than Peter who had never seen such an encounter before! Then we heard the orca's start vocalizing at the surface - another rare experience! Thinking it couldn't get any better than this - the killer whales then started breaching and leaping out of the water - it was truly an awe-inspiring sight and clearly the orcas were just enjoying themselves after successfully completing their hunt.
We were all on such a high after experiencing such a rare encounter, and after the orca's had decided to start swimming off out of Rainy Bay, we stayed and began our final dive of the trip. Chup point consists of two pinnacles with a sand channel in between and incredible walls either side of the channel. As the current had started picking up we all stayed close to the wall and drifted along, exploring the incredible sea stars, jellyfish and other life living on the reef. It was a fantastic dive to end a fantastic trip.

After completing our final dive, we got back to the lodge - packed all our gear up, before jumping back on the boat and enjoying another nice lunch whilst travelling back up the Alberni Inlet. A short drive back to the ferry (followed by a long wait for the ferry!) before returning to mainland Vancouver, everyone exhausted but content after a wonderful trip!
A final big thanks to everyone who came on the trip and a huge thank you to our lovely hosts - Peter and Kathy!
If you are interested in coming on our next dive trip - sign up for our newsletter on the right hand side and you will get information on our upcoming trips!
Thanks and see you in the water!
Gareth